The Lanark County Agricultural Advisory Working Group reviews all issues relating to agriculture that are referred to the committee for comment. It also addresses any issues arising from the farming community and reports to Council. The County provides administrative and procedural assistance to the committee.
Lanark County is a diverse community where farmers and agri-business work together to enhance an economic climate of fairness and opportunity with their neighbours. To that end, the Agricultural Advisory Working Group strives to provide priority and direction for municipal concerns relating to agriculture that will contribute to a prosperous and sustainable farming community in Lanark County.
The working group advises Council on behalf of the County's farmers, farm organizations and agricultural support industries and helps Council to achieve Lanark County's agricultural vision. It encourages public awareness and education about agricultural and rural issues. The working group also provides comments and recommendations on legislation, programs and reports from other agencies and levels of government. It strives to take a proactive approach by recommending to Council initiatives, alternative solutions and plans for agriculture economic development and enhancement of agriculture in Lanark County.
www.county.lanark.on.ca/Page444.aspx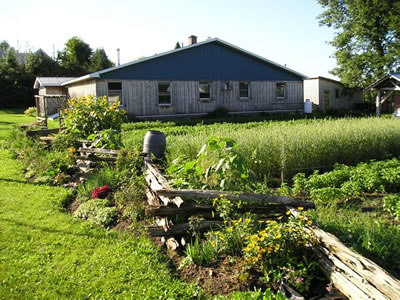 Little Stream Bakery is a small business with environmental integrity. We pride ourselves on hand-crafting each loaf of bread. We are located just outside of Perth on transitional land at the edge of the Canadian Shield. With our recent expansion and relocation to a renovated dairy in the hamlet of Glen Tay, we are now able to complement our staple line of breads with a variety of rustic pastries. We're honoured to say that 99% of the grains we use for our breads - mainly spelt, wheat and rye - are grown within an hour and an half drive of our bakery.

Valley Heartland Community Futures Development Corporation (CFDC) is a community-based organization dedicated to stimulating job creation and economic growth through business and community development. Funded by Industry Canada, Valley Heartland CFDC assists small towns and rural communities to strengthen and diversify their economies. We achieve this by:
Providing support and access to capital to the business community
Partnering and coordinating community action
The mission of The Perth and District Community Foundation is to work within the greater community in order to build a permanent fund to enrich the quality of life throughout the western half of Lanark County. The foundation encourages philanthropy and provides a focus for those who want to make a lasting contribution to their community.

The Ontario Market Investment Fund program is a 4-year, $12 million provincial initiative to promote consumer awareness of Ontario-produced foods and encourage Ontarians to buy locally. The objectives of the Ontario Market Investment Fund are to develop economic opportunities through trade events, marketing campaigns and industry research initiatives that foster partnerships and collaboration for the promotion of Ontario foods.